We require Vector Artwork (.eps, .ai)  in order to produce professional, quality signs.
PNG files or JPEG files are considered Bitmap Artwork and can be used only if they are High Resolution.  150 DPI at a minimum and at actual size, please.  Artwork may be submitted in RGB or CMYK and saved as high resolution PDFs.
Don't worry if you can't open .EPS files.  We can!  Plus we'll send you a proof prior to production.  Files over 10 MB should be uploaded via our website.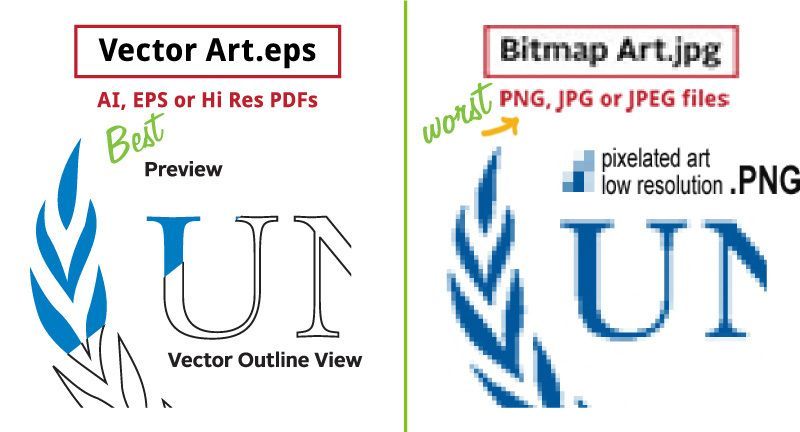 ---
Vector Files are the "original" artwork designed professionally in an illustration program such as Adobe Illustrator.  Generally these files are saved as .eps, .ai (native file) or .PDF.  Our printer uses CMYK eco solvent inks so CMYK files are preferred over RGB; but there's no need to convert to CMYK.
Bitmap Files (PNG or JPEG) contain images and photos made up of rows of pixels creating the overall image.  Photos from a cellphone or digital camera, artwork that has been scanned or files from Photoshop are all raster (bitmap) images and generally contain no vector data.  This file type is usually saved as: .psd, jpeg, .png, .tiff.  If submitting bitmap art please make sure the file is high resolution.  Our rule on bitmap art is 300 dpi at 1/2 scale or a minimum of 150 dpi at actual final output size.  This will create huge files but you can easily upload your files here.
PDF files from a vector illustration program are great and work well!  Caution:  Many PDF files contain both bitmap and vector data.  If you're not sure, please send us the file and we'll check it out for you.