PVC Aframe with 24"x36" Sign Inserts
Sidewalk signs or A-frames have been an advertising staple outside of cafes, restaurants and retail establishments for...; well probably forever.  The sign inserts we will design for you are guaranteed to maximize imapact and grab the attention of your perspecitve new clients as they happen past your business.  Advertise specials here & draw in new customers right off the street!
There are many options here & many different sizes avaialbe, too.  Some wooden cafe sidewalk signs stay outside for years & some are much more portable.  We recommend securing yours outside with a bicycle chain & lock.
Also called Sandwich Boards or Cafe Signs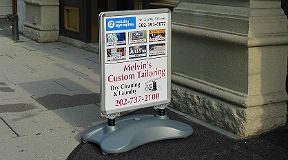 Exterior Small Windmaster A-frame
The insert signs can be aluminum, PVC or coroplast.  Each product is durable & has a great look.  Budget & how long you intend to advertise the information may drive us to suggest one product over the other. Draw upon our experience to help you to decide what works best for you.