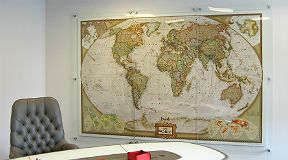 Plexiglass Mounted Above Map
Glass & Plexiglas signs make a powerful, modern yet graceful statement.  Unless we mount a giant world domination map in your CEO's office.  Bwa Ha Ha ha ha!!!
We can apply your logo on the front of a glass or plexiglas sign or if it's a decal we'll probably cut the artwork backwards & mount it second surface.  Your logo can be dimensional and attached to the front or a full color print mounted behind the glass.  These signs are economical and practical.  Typically 4 screws & you can move the sign if your office moves or is remodeled.  Easy!
Clear & Tinted Plexi Signs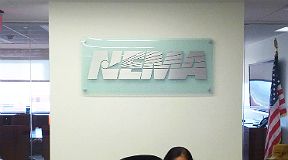 3D Aluminum on Frosted Plexi
Think how impressive this acrylic sign with satin aluminum letters and stand off hardware will look to your clients unpon entering your lobby.  This plexi is tinted (maybe too enhanced in this photo) slighly green to mimic real glass.  It does a great job; unless of course I've over saturated the green in this photo and then don't pay any attention to how green this looks. It's usually more subtle than this.