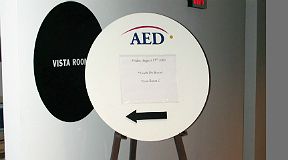 Directional Meeting Poster
Posters, printed in full color (glossy or matte finish) mounted to 1/4" thick foam board (we use a high quality board called Jet Mount) are extremely useful in business.  Take these to the hotel for your next meeting.  With detachable directional velcro arrows, clear vinyl pockets and bold graphics, our posters will serve you well.
Whether you want durable, re-usable posters or meeting posters for 1 time use, we have what you'll need.  Let us know how and where you'll use your posters and placards and we can suggest just the right products.
Gator board Signage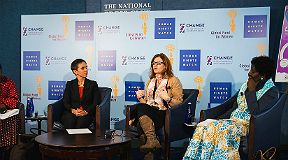 Durable Gator Board Posters
From rigid, temporary backdrops for press & video conferences to permanently installed posters mounted to PVC plastic; we've got plenty of options.  Posters can be big or small, indoors or outdoor use and temporary or long term use.